In February, 2019, Sanden Automotive Climate Systems Corporation (Representative Director & President: Tadashi Kondo) (SDAS) started providing its automotive air conditioning heat pump system for SAIC's*1 electric vehicle, ROEWE MARVEL X and Ei5. SDAS began development of this new heat pump system in July, 2017 intending to make it the market first product*2 in China. It is manufactured at Shilong Plant of Sanden Huayu Automotive Air-Conditioning (SSB).
As environmental awareness grows worldwide, the environmentally-friendly vehicles, such as electric vehicle, is becoming more popular. It is, however, difficult to utilize exhaust heat as a heat source for space heating because electric vehicles have no internal-combustion engine. An electric heater is supplementarily used for heating, which runs a drive battery down and consequently results in decreasing cruising distance. This new system is designed to extract thermal energy from the outside so that it is able to perform heating with less power. SDAS was successful in developing its unique heat pump system in which the year-round balance of energy consumption efficiency for heating/cooling was achieved. The remarkable features of this heat pump system for this particular vehicle line are as follows.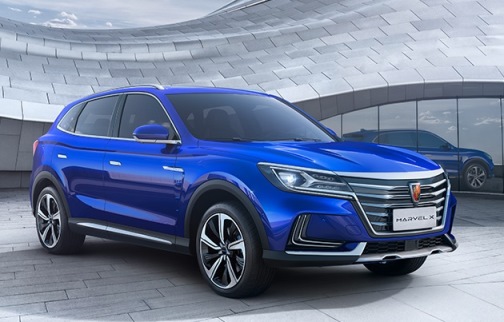 【Features of this product】
● Improvement in energy efficiency of air conditioning in the outside temperature range of 5 to 25 degrees Celsius to prevent cruising distance from being decreased.
● Prevention of reduction in cruising distance in winter season through adoption of the vertical type outdoor heat exchanger which shows improvement in efficiency and drainage performance over the horizontal type outdoor heat exchanger.
【EV trend of China】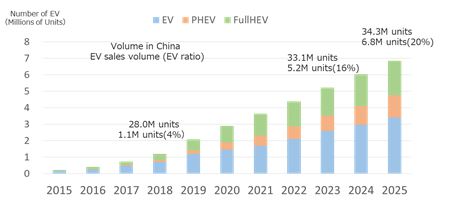 <Source:IHS(2018)>
 Comment of Mr. Weiguo Gong, Vice President of Technical Center,
SAIC Motor Passenger Vehicle Co., Ltd.
The ROEWE brand of SAIC pursues an advanced blend of customers' needs and technologies to achieve high efficiency and excellent energy conservation performance. SAIC adopts the highly efficient heat pump air conditioning system developed by SDAS for our MARVEL X, the top runner electric vehicle in China. This heat pump system enables us to satisfy our customers' requirement to use air conditioning even at 5 degrees below zero, double the heating efficiency, and improve cruising distance in winter. We are contributing to expansion of Chinese electric vehicle market from the technological aspect.
 Comment of Mr. Tadashi Kondo, Representative Director & President, SDAS
Taking account of Chinese national policy of shift to environmentally-friendly vehicle, Sanden group has strategically been advancing into the Chinese market. It installed a production line for its electric driven compressors at SSB in August, 2018, so that the global production system for 1.5 million of annual volume was established. We are honored that SAIC, as a Chinese representative auto maker, appreciated and adopted our heat pump system. Taking quality first as our motto, we will continually provide first-class products in collaboration with SAIC.
*1: SAIC: Shanghai Automotive Industry Corporation, Chinese auto maker being proud of No. 1 share in China, placing Shanghai VW and Shanghai GM under its umbrella.
*2: According to our own research.